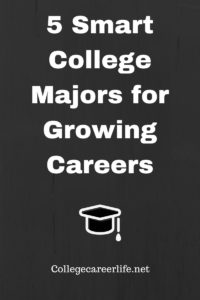 Deciding on a college major is one of the most pivotal life decisions you can make. It often determines how you begin your career and the opportunities available throughout your career. Although major doesn't have to determine your career, there are some great majors to help ensure that you'll have the best job options after graduation.
Information Technology
Jobs in information technology are not only growing rapidly, but pay is typically higher than many other careers. Additionally, it is one of the few fast growing, high-paying fields with many available jobs that only require a bachelor's degree. What kind of jobs can you get with a degree in information technology? Computer systems analyst, software developer, computer security analyst, and network administrator. Other majors that lead to great IT careers: software engineering, computer programming, and management information systems.
Biological Sciences/Pre-Medicine
Many high paying, fast growing jobs in healthcare require a graduate degree. An undergraduate degree in biology can qualify you for a graduate program in physical or occupational therapy, nursing and medicine. Because requirements may vary somewhat depending on which graduate program you hope to enter, make sure you meet regularly with an advisor to ensure you're taking the required courses for your intended career path.
Math and Statistics
Statistician is one of the fastest growing careers, with a growth rate of 34% through 2024*. It also offers a high salary ($80,500 median annual pay in 2016). Although a master's degree is required, it's a good occupation choice for those seeking jobs with high growth rates. A degree in math is also a great choice for those hoping to find jobs in engineering and high-level finance, especially when paired with a relevant double-major or minor.
[wpedon id="11354″ align="center"]
Environmental Science and Engineering 
Environmental engineering is a field expected to add 6,800 new jobs through 2024. Environmental engineers help improve public and environmental health through the use of engineering and science. They develop new techniques for recycling and waste disposal, change operating procedures for facilities, and monitor progress of environmental programs. Environmental engineers earned a median annual wage of $84,890 in 2016.
Nursing
A bachelor's degree in nursing will leave you with great career opportunities after graduation. Nurses can specialize in a number of areas, such as pediatrics or emergency medicine. If you want to further pursue your education, you can become a nurse practitioner or nurse anesthetist.
Remember, there are no guarantees. Even graduating with a "good" major doesn't always lead to a high paying job in your field of choice. To increase your chances of landing a great job supplement your education with an internship for real-world experience that employers usually want even from "entry-level" candidates.
*Salary and growth data taken from the Occupational Outlook Handbook