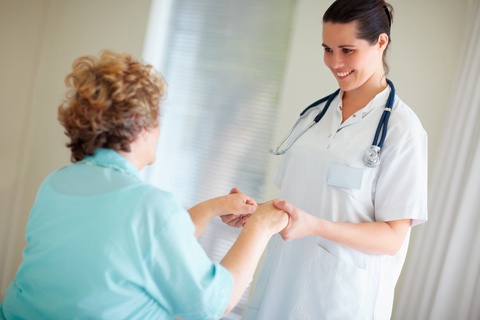 Nursing is an obvious choice for those seeking a high demand and secure career. But you may not be aware of all the interesting specialties within the nursing profession. Although nursing isn't right for everyone, the field does offer plenty of options to suit a variety of interests. Take a look at ten career paths that you can pursue as a nurse.
Nurse Anesthetist
Nurse anesthetists work with surgeons and other healthcare professionals to administer anesthesia. They work in hospitals, physicians' offices, dentists' offices, and other healthcare facilities. According to the Bureau of Labor Statistics, nurse anesthetists earned a median annual wage of $148,160 in 2012. In order to become a Certified Registered Nurse Anesthetist (CRNA), one must obtain a bachelor's degree in nursing and a Registered Nurse license, have a minimum of one year acute care experience, and complete an accredited nurse anesthesia educational program and pass the national certification examination. For more information, visit the American Association of Nurse Anesthetist website.
Nurse Practitioner
Nurse practitioners are RN's who work independently and with other health care professionals to provide primary and acute care. Their duties are similar to medical doctors, including the diagnosis and treatment of medical conditions. NP's work independently or under the supervision of a physician, and may prescribe medication. In order to become a nurse practitioner (NP), one must obtain a master's degree, state license, and board certification in a chosen specialty. According to the American Academy of Nurse Practitioners, the average annual salary for full-time nurse practitioners was $95,000 in 2012. Learn more from the American Association of Nurse Practitioners.
Critical Care Nurse
Critical care nurses work primarily in intensive care units and emergency rooms, but may also work in doctor's offices and clinics. Their duties include vital sign monitoring, wound treatment, and medication administration. The median expected salary for a Staff Nurs-RN-CCU in the US is $66, 653, according to Salary.com. To become qualified to work as a critical care nurse, an RN must work for a minimum of two years in critical care and obtain a critical care nursing certification from the American Association of Critical Care Nursing. Visit AACN.org for more information.
Pediatric Nurse
Pediatric nurses work with infants, children and adolescents. They must have in-depth knowledge of child growth and development, and be able to educate caregivers on child health care. After gaining experience in the field, an RN can take the exam to become a Certified Pediatric Nurse (CPN). For more information, visit PNCB.org.
Neonatal Nurse
Neonatal nurses work with newborn infants suffering from problems such as prematurity, infections and birth defects. They typically care for infants in the neonatal intensive care unit (NICU) until the child is released from the hospital. Some hospitals require that nurses have previous experience working with infants and children, while others will hire recent graduates. Find more information at NANN.org.
Public Health Nurse
Most public health nurses work in schools or public health departments. Their primary responsibility is to promote public health and safety via planning and community education. Public health nurses provide vital services to low income and rural communities, including screenings and immunizations.Visit Phnurse.org for more information.
Oncology Nurse
Oncology nurses administer treatments and monitor conditions of cancer patients. Those interested in becoming certified in oncology nursing must first obtain 1,000 hours of work experience in oncology. After gaining relevant experience, a nurse can take the certification test.  More information about certification is available at ONCC.org.
Psychiatric-Mental Health Nurse
Psychiatric mental health nurses work to assess the mental health needs of patients and help implement treatment. Psychiatric Mental Health Advanced practice registered nurses (PMH-APRN) have master's or doctorate degrees and provide primary psychiatric care. Their duties, including diagnosis and treatment of mental health disorders, may overlap with those of psychologists and psychiatrists. Visit APNA.org for more information on psychiatric mental health nursing.
Geriatric Nursing
Geriatric nurses work with older adults in hospitals, assisted living facilities, and nursing homes. They specialize in common geriatric conditions such as dementia and pressure ulcers. In assisted living environments, they may work with a team of professionals to help maximize independence. Geriatric nurses working in nursing homes are responsible for patient assessment, diagnosis and treatment. Find more information at NGNA.org.
Nurse Informatics
The field of nurse informatics combines nursing, information science and computer science. Nurse informaticists work to implement, and maintain healthcare data systems. An effective data program can allow nurses in different locations to share important information, aiding in healthcare education and patient treatment.  According to PayScale, the median nurse informatics salary was $63,688 as of June 2013. In order to enter the field, one must possess a bachelor's degree in nursing, successfully complete a nurse informatics graduate program, and pass a certification test. Learn more about nurse informatics at the American Medical Informatics Association website.
The list above represents just a small portion of the career options available within the field of nursing. For more information on healthcare careers, read The Everything Guide To Careers In Health Care: Find the Job That's Right for You (Everything (School & Careers))
.