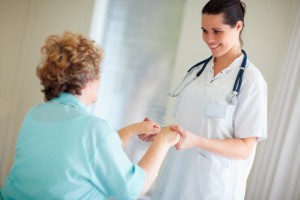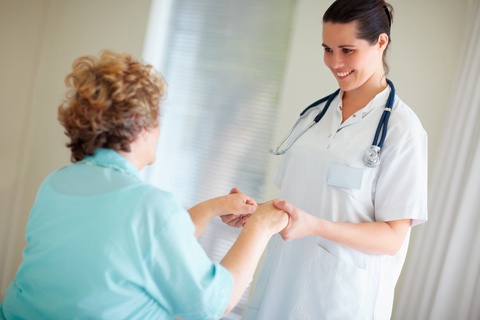 If you're deciding on a career path, growth is an important factor to consider. High growth careers offer better employment opportunities and security. Although some fast growing jobs require a large investment in education and training, others require only a high school diploma or post-graduate certificate (plus on the job training). Not surprisingly, healthcare careers dominate the list of highest growth careers. However, there are also options in business, IT and other industries. Whether you're able to devote several years to your training or only a few months, there's a growing career out there for you.
High School Diploma
The following fast-growing jobs require a high school diploma and on-the-job training.
Occupational Therapy Aides
Occupational therapy aides provide support such as cleaning and clerical duties for occupational therapists. The growth rate for occupational therapy aides is projected to be 40% though 2020. The medial annual salary for occupational therapy aides was $27,800 in May 2015.**
Physical Therapist Aides
Physical therapist aides clean treatment areas, help move patients to and from the treatment area, and perform clerical tasks. The median annual salary for physical therapist aides was $25,120 in May 2015.
Medical Secretaries
Medical secretaries transcribe dictation and prepare reports for physicians. They also schedule appointments, take patient histories, and process insurance claims. Medical secretaries must be familiar with medical terminology and codes. The median annual pay for secretaries and administrative assistants was $36, 500 in 2015.
Opticians, Dispensing
Dispensing opticians fit glasses and contacts following prescriptions from optometrists. Most work in optometrists' offices or stores that sell eyeglasses and contact lenses. Although a high school diploma is the minimum requirement, some may obtain a certificate or associate's degree. They earned a median annual pay of $34,840 in 2015.
Solar Photovoltaic Installers
Solar photovoltaic installers, also called PV installers, install, assemble and repair solar panel systems. Most work is outdoors, while some is also in attics or crawlspaces. Travel to job sites and being on call after business hours may also be required. PV installers earned a median annual wage of $37,830 in 2015.
Certificate
The following jobs require completion of a post-secondary certification program.
EMT's and Paramedics
Work as an EMT or paramedic is not for everyone. The work can be mentally, physically and emotionally stressful. They respond to emergency calls, provide care to sick or injured, and transport patients to medical facilities. Paramedics can provide more care to patients, including giving medication and using complex equipment to monitor vital functions. The median annual wage for EMT's and paramedics was $31,980 in 2015.
Medical Assistants
Medical assistants record patient information, take vital signs, schedule appointments and perform other tasks to assist physicians. In some cases, medical assistants may specialize in either clinical or administrative work. Most work in offices of physicians and hospitals. The median annual pay for medical assistants was $30,590 in 2015.
Phlebotomists
Phlebotomists draw blood for testing, transfusions and procedures. They work in hospitals, doctors' offices, laboratories, and blood donor centers. Phlebotomists earned a median annual wage of $31,630 in 2015.
Associate's Degree
The following high growth careers require an associate's degree.
Occupational Therapy Assistants
Unlike occupational therapy aides, occupational therapy assistants can participate in therapy under the direction of an occupational therapists. They work with patients in accordance to the OT's therapy plans. Occupational therapy assistants earned a median annual wage of $54,520 in 2015.
Physical Therapy Assistants
Physical therapy assistants work under the supervision of a physical therapist. They assist patients with exercises to improve mobility, observe patients and report status to the PT, and educate patients and family members. Physical therapist assistants earned a median annual wage of $42,980 in 2015.
Cardiovascular Technicians and Technologists
Cardiovascular technicians and technologists create images, conduct tests and assist with procedures involving the heart. Most work in hospitals and doctors' offices. The median annual wage for cardiovascular technologists and technicians was $54,880 in 2015.
Diagnostic Medical Sonographers
Diagnostic medical sonographers specialize in using equipment to obtain images (sonograms and ultrasounds) of organs and tissues. They may specialize in certain areas, such as obstetrics and gynecology or pediatrics. Diagnostic medical sonographers earned a median annual wage of $68,970 in 2015.
Bachelor's Degree
The following high growth jobs require a bachelor's degree.
Operations Research Analysts
Operations research analysts help companies identify and solve problems using mathematical and analytical methods. A degree with a heavy focus on mathematics is generally preferred. Operations research analysts earned a median annual wage of $ 78,630 in 2015.
Personal Financial Advisors
Personal financial advisors offer advice on investments, savings and other financial products to clients. A degree in finance, economics, mathematics or related field is best for those looking to enter the field. Personal financial advisors earned a median annual wage of $89,160 in 2015.
Biomedical Engineers
Biomedical engineers design equipment and software to be used in the healthcare field. A bachelor's degree in biomedical engineering is required for entry into the field, although some employers prefer candidates with a master's. Biomedical engineers earned a median annual wage of $86,220 in 2015.
Computer Systems Analysts
Computer systems analysts design computer systems to help organizations operate more efficiently. A bachelor's degree in computer science or information systems is the minimum requirement for most employers. Computer systems analysts earned a median annual wage of $85,800 in 2015.
Master's Degree
The following high-growth occupations require a master's degree:
Nurse Practitioners
Nurse practitioners, or advanced practice nurses, provide primary and specialty healthcare. They perform duties of nurses, in addition to diagnosing medical conditions and prescribing treatment. In order to become an advanced practice nurse, one must complete an accredited graduate program and , in most states, obtain certification. Nurse practitioners earned a median annual wage of $98,190 in 2015.
Physician Assistants
Physician assistants examine, diagnose, and treat patients in collaboration with physicians. Their duties and required physician supervision vary from state to state. In order to become a PA, one must complete an accredited graduate program and obtain a license to practice. Physician assistants earned a median annual wage of $98,180 in 2015.
Statisticians
Statisticians college and analyze data, design methods for collecting information, and create reports on their findings. They work in a variety of industries including the government, education, marketing, and healthcare. Statisticians earned a median annual wage of $80,110 in 2015.
Occupational Therapists
Occupational therapists develop and carry out treatment plans for patients that need help with daily living activities such as eating and getting dressed. Occupational therapists earned a median annual wage of $80,150 per year in 2015.
Professional or Doctorate Degree
The following high growth professionals require a doctorate or professional degree.
Physical Therapists
Physical therapists design treatment plans to help patients improve mobility, prevent injury, and improve overall health. They use exercises, equipment and hands-on therapy to achieve their treatment goals. Most work in therapy centers and hospitals. Physical therapists earned a median annual wage of $84,020 in 2015.
Anesthesiologists
Anesthesiologists administer drugs to reduce or eliminate pain during procedures. During surgery, they are responsible for monitoring the patient's vitals and adjusting medication as needed. Anesthesiologists earned a median annual wage of $443,859 as of 2014.
Optometrists
Optometrists diagnose and treat visual problems, in addition to prescribing eyeglasses and contacts. A Doctor of Optometry degree and a license required. Optometrists earned a median annual wage of $103, 900 in 2015.
** Salary and growth data from the Occupational Outlook Handbook