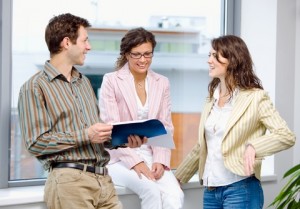 Entering the workforce can be extremely intimidating. Will you like your job? Will you fit in? Will you make a big mistake? What if you don't find a job? These are all questions that may be running through your head as you finish your last semester of college and prepare to enter the "real world". As part of project run by TheLadders.com, we're offering some advice for college graduates entering the workforce.
Tailor Your Resume to Each Job Listing
Tailoring your resume to each job listing can greatly increase your chances of landing an interview. Pay attention to industry keywords in the description and be sure they are included in your resume. Hiring managers and resume scanning software will be looking for these words when deciding which resumes make the cut. Make relevant skills, coursework, and experience easy to identify and leave off irrelevant information that can distract from the important points.
Interview Your Interviewer
You may be worried about how you'll answer questions during job interviews, but you should also be preparing your own questions to ask your interviewer(s). The idea is to see if you're a good fit for the company, and you can't do that without asking your potential employer some important questions. Also, asking questions proves your genuine interest in the employer and the position. Your questions should focus on the actual work such as what is expected of you in the first few months, qualities a successful employee will possess, and how you will be evaluated. If your interviewers don't offer information about salary or perks, refrain from asking on your first interview. You can discuss these during later interviews or negotiate when an offer is made.
Take Advantage of Valuable Career Resources
Career advice from more experienced workers and career experts can help you achieve your career goals and avoid big mistakes many others make. Take a look at some great career websites, such as CareerBuilder.com . And while it may not be the most exciting use of your spare time, reading career-related books can put you ahead of the competition. Reading recommendation: Getting from College to Career Rev Ed: Your Essential Guide to Succeeding in the Real World
Reach Out to Your Network
If you're just entering the workforce, you may feel intimidated by networking because you don't think you have a network and aren't sure how to build one. Luckily, you don't need a long work history in order to start networking for a job. Your friends, family, professors, and contacts from part-time jobs are all part of your network. Don't be afraid to contact members of your network and let them know you're looking for a job. Briefly describe your skills and experience so that they can better help you, but don't put pressure on anyone to find a job for you. Just simply say if they know of any openings or anyone who is looking to hire for a relevant position you would appreciate them passing along your information.
Don't be Afraid to Ask Questions
Once you land a job, you may think the hard part is over. In fact, you still have a lot to prove as a new employee. Don't be afraid to ask questions; it's better to ask questions than to make a mistake. Keep notes to help you remember important points so that you don't have to keep asking the same questions (it's okay to ask, but you don't want to be annoying).
Take Initiative at Work
Employers may expect young workers to do the minimum required to keep their jobs. Surprise your new boss and take initiative. If you see someone working on a big project, offer to help if you have relevant skills and abilities. If you're bored, ask for more work instead of browsing the web or playing around on your cell phone. Demonstrating a high level of motivation can lead to faster career advancement and provide greater job security.
Own Up to Mistakes
Even the most experienced professionals sometimes make mistakes. As a new employee, you can expect to make some mistakes at work. Don't try to deflect blame, hide, or minimize the problem. Admit your mistake and make it clear that you've learned from it. Taking responsibility is a sign of maturity and your boss will be more understanding if you're honest about what went wrong.
College is not easy and takes a lot of work if you take it seriously. However, it's very different from the working world and even the most accomplished students can have trouble transitioning. Following the advice above will help make the transition much easier.