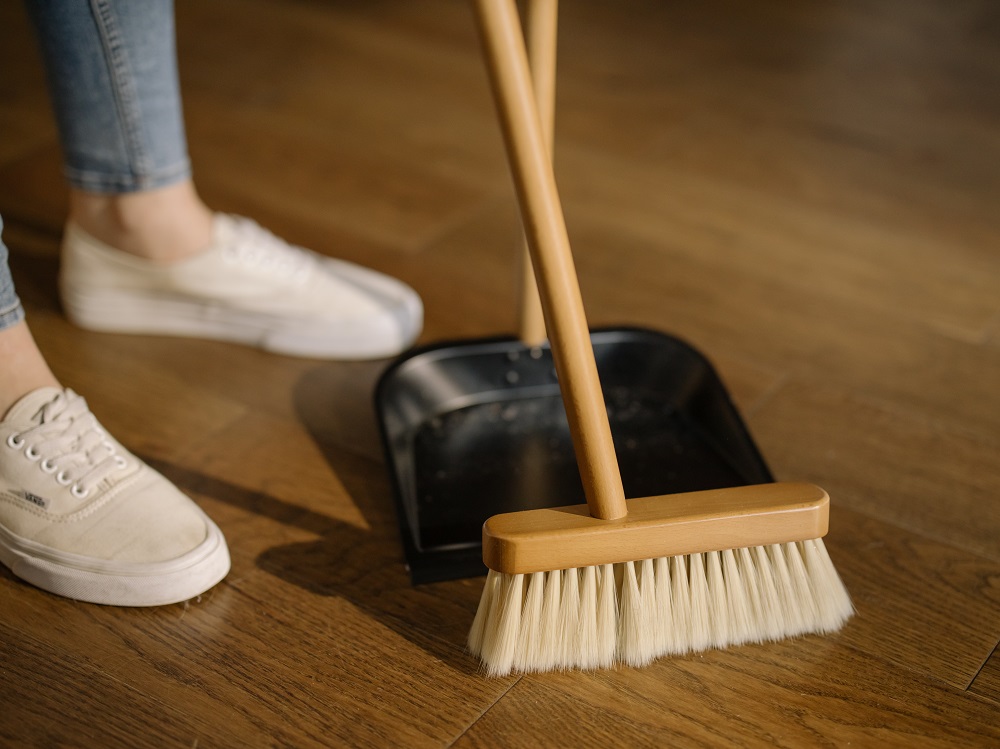 Photo by cottonbro from Pexels
Spring cleaning may seem like a daunting task for busy college students or young professionals. And if you live in a tiny dorm room or apartment, it's easy to justify skipping on a yearly deep-clean. But even small areas can become dirty and cluttered in a short amount of time. No matter where you live, giving your home a yearly top-to-bottom clean will not only make your space look better but can improve your productivity and reduce stress. Start with a checklist and then seek out tools to accomplish your spring cleaning tasks. Below, find helpful cleaning and organizing products to make the job easy.*
Microfiber cloths make cleaning easy because they can be used pretty much anywhere and with any cleaning products. And they'll save you money because you don't have to buy pre-moistened wipes and paper towels. Keep a few microfiber cloths in each room to make frequent cleaning tasks easier. The AIDEA microfiber cloths are non-abrasive, highly absorbent and machine washable. At less than $10 for an 8 pack, it's a great purchase for those on a budget.
Blinds may be one of the hardest things to clean. Unfortunately, they can collect dust very quickly. The HIWARE blind cleaner brush aims to make cleaning your blinds a little easier. The duster features 3 blades that can clean tops and bottoms of two blinds together. The microfiber sleeves can be washed and re-used. Cleaning blinds will probably still be frustrating, but you'll spend a lot less time on the task.
In order to deep clean your floors, you need a high quality mop. The O-Cedar mop system is a good investment for your first apartment. It removes over 99% of bacteria with just water and is safe on all hard floor surfaces. The microfiber head is machine washable and reusable, so you don't have to constantly purchase pads like with other mop systems. It's ability to rotate 360 degrees allows it to reach all corners, under furniture and between tile.
Vacuums can be pricey. But for a small space, an affordable and lightweight vacuum is probably all you need. The Bissell stick vacuum is cleaning three machines in one: a stick vacuum, handle vacuum, and stair vacuum. It comes with a crevice tool for furniture and a floor nozzle for stairs. The vacuum works on hard floors and can clean surface dirt on carpets and area rugs. And it's compact size allows for easy storage for those with limited space for cleaning tools.
Spring cleaning should start from the top. But it's hard to reach high places like ceiling fans, high shelves and cabinets. And since these areas tend to collect dust fast, it's important not to overlook them when spring cleaning. The DELUX microfiber duster has a 100-inch long stainless steel telescopic pole and bendable head to make cleaning any high surface easy. The head is detachable and washable and a hanging hole on the rod makes for easy storage.
A squeegee makes cleaning tile and glass surfaces easy. The OXO All-Purpose Squeegee wipes off tiled surfaces, mirrors, shower doors and windows. A suction cup lets you conveniently store the Squeegee on any wall.
Instead of buying cleaning sprays designed for each room or surface, use a multi-purpose spray. Mrs. Meyer's Multi-Surface cleaning spray works for kitchens, baths and other areas. It smells great but and isn't overwhelming like bleach-based cleaners.
The Clorox toilet cleaning system makes an unpleasant chore easier with preloaded Clorox cleaner, disposable scrubbing pads that deep clean and remove stains while eliminating germs and a convenient caddy that stores the toilet wand and refill heads. The hexagon shaped sponge heads clean hard to reach places under the bowl rim and drain for a deeper and faster clean to remove rust, calcium and lime stains.
A cleaning caddy will make spring cleaning and weekly cleaning much easier by allowing you to carry all of your tools around from room to room. Save time and energy by not having to run back and forth grabbing necessary supplies. The Casabella caddy holds most cleaning items and can easily be stored in a cabinet or closet.
Organization is an important part of spring cleaning. Getting your space in order will make you feel less stressed and more productive. Tiered organizers make the most of vertical space, particularly under kitchen and bathroom sinks. This under sink organizer features a fixed basket and a slide-out basket with a handle, allowing you to easily take items.
This 25 piece drawer organizer set allows you to organize any drawer, from the kitchen to your desk. Keep drawers clutter free and make it easy to find what you need by dividing items by use. This set has a variety of divider sizes so you can store office supplies, utensils or cosmetics.
A great spring clean starts with the right tools. You don't have to splurge on expensive vacuums or mops, especially if your space is small. If you're feeling unmotivated, make a schedule and list tasks by day. Spring cleaning isn't just about making your space clean, but improving health and productivity.
*Amazon links are affiliate