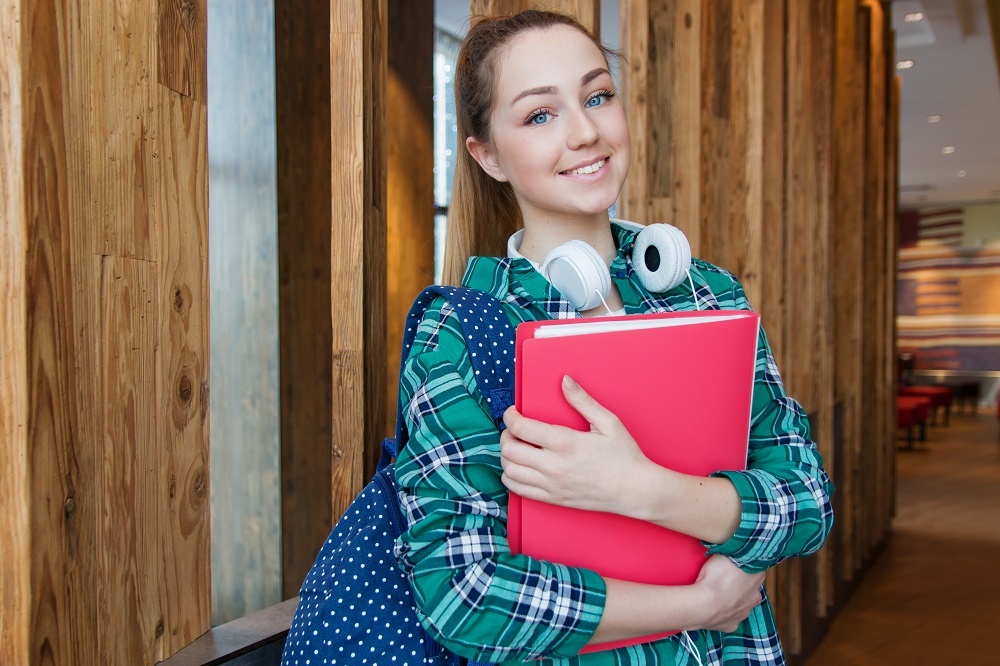 Photo by Anastasiya Gepp from Pexels
Whether you're a freshman heading to college for the first time or a graduate student, there are some essentials that can make college life easier. From tech gadgets to storage solutions, the items below are designed to help you stay organized and reduce stress as you pursue an education.*
Haundry Mesh Shower Caddy Tote,Portable College Dorm Bathroom Tote
If you share a bathroom, whether it be in a dorm or apartment, a shower tote will come in handy. The Haundry Mesh Tote has 8 basket pockets, offering plenty of storage and a with key hook. The mesh material allows for water to easily drain out. Finally, the double reinforced Oxford cloth handles allow you to hang heavy items without tearing.
AmazonBasics 3-Outlet Surge Protector with 2 USB Ports
As a college student, you probably have a lot of items that need charging. But due to limited space in apartments and dorms, sometimes there aren't enough outlets for all of your electronics. The AmazonBasics 3-Outlet Surge Protector has -outlet surge-protector wall tap with 900 joules of surge protection, includes 2 USB ports—a 1.0A USB and 2.4A USB (great for charging a smartphone and tablet), keeps plugged-in devices safe from excess voltage during an AC power surge, and is cETLus listed for safety. The LED protection indicator lights up when connected to an outlet
This affordable laptop backpack is lightweight and will fit not only your laptop but other essentials due to it's quick-access and large front pockets (6.5″ X 8.75″) for your books, folders, ipad, phone, cords and cards. Custom-fit strap design for a truer, more comfortable fit. The laptop knapsack shoulder strap padded , with flexible attachment points contoured for a woman's torso for a perfect fit for any size or shape. Choose from a variety of colors from grey or black to pink or purple.
Not enough room for a night stand? The Sugaroom Bedside Storage Caddey has 8 different size pockets, meeting your request for multi storage. Perfect for storing books, iPad, cell phones, chargers, water bottle, magazines, newspapers, remotes, flashlight, tablets, smart phones, glasses, headphones, notebooks, pens, drinks, snacks and more.
The DOKEHOM Large Laundry Basket is lightweight and sturdy, has drawstring closure and cotton material with waterproof lining. A great purchase for dorm dwellers or those having to carry laundry to another location for washing. It's also collapsible for easy storage and comes in a wide range of designs.
Keep your clothing organized with this 4 bin drawer divider set. This organization set allows those with small dorms or apartments to maximize storage. Dividers also make it easier to see what you have so you don't have to dig through your clothes to find the right piece. The non-woven fabric is mold-proof, so it can be used anywhere in your living space.
HOUSE DAY 6 Pack Metal Wonder Magic Hangers Space Saving Hangers
These space saving hangers are the perfect solution for tiny closets. Every hanger organizer can hold 12 garments (up to 15lbs) horizontally and 6 pieces (up to 30lbs) vertically. Compared with the plastic magic hanger, the metal wonder magic hanger won't bend or break and can hold any type of garment on wire, plastic, or wooden hangers.
Keep your valuables safe with this security lock box safe. If you live with others or in a dorm environment, sometimes stuff gets lost or stolen. Keep your most important items and documents in a safe to ensure you don't lose them. This portable security safe features a compact design made with premium anti-pry steel and a foam-padded interior. It's also easily transportable for travel and can be discreetly stored. Finally, it includes a zinc alloy combo lock for additional security.
As a college student, it's likely you share a shower with at least one other person. Therefore, it's important to protect your feet with shower slippers. These shower sandals are quick drying thanks to drainage holes and thier arch support effectively balances pressure and reduces feet stress. Durable anti-slip EVA outsole gives your feet a good grip with no slippage and good balance.
A first aid kit might not be first on your back to school shopping list. But having a complete first aid kit on hand is important. This 125 piece kit is pharmacist designed. It contains 6 common FDA approved medicines plus first aid supplies to treat a variety of minor illnesses and injures. And the color coded instructions attached to the kit make it easier to effectively treat injuries.
Keeping pepper spray and emergency whistle on hand will give you peace of mind no matter where you are on or off campus. Pepper Gel is designed for students on college campuses. It is safe to use indoors, has no effect on bystanders, reduces wind blow back and sprays up to 10 feet. The emergency whistle has a 3-chambered design emitting dual sounds at 120-decibels. The locking clip can be easily released or attached to a purse, keychain, pepper spray and backpack. It makes the perfect gift for college students. Note: there are shipping restrictions due to state regulations.
The above is not a comprehensive list by any means, but it will give you a good starting point as you enter the fall semester.
*Amazon Links are affiliate