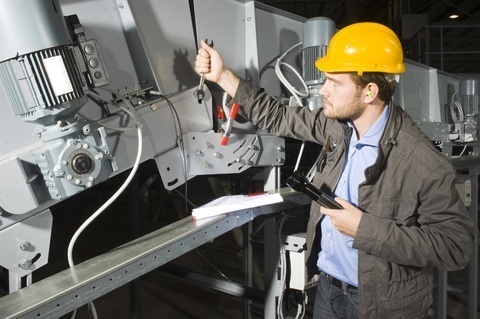 Those with realistic career interests prefer work that is hands-on and do not often enjoy working in an office environment. Some promising jobs for those with realistic career interests:
Heating, Air Conditioning, and Refrigeration Mechanics
Heating, air conditioning and refrigeration mechanics (also called HVACR technicians) can receive training through technical and community college programs, which typically take between 6 months and two years to complete.  Apprenticeships are another training option.  Licensure is required in some states and technicians may need to pass certification exams. Projected growth for heating, air condition, and refrigeration mechanics is 28% through 2018 and job prospects are excellent, according to the Bureau of Labor Statistics.  Median hourly wages were $19.08 in 2008.  For more information about training and certification, visit the Heating, Air Conditioning, and Refrigeration Institute website.
Medical Equipment Repairers
Medical equipment repairers, also called biomedical equipment technicians (BMET), repair a variety of equipment used in hospitals and medical offices.  Responsibilities may include routine or emergency maintenance and, since technicians might need to work on equipment while in use, they must be comfortable working around patients.  Like other workers in the healthcare field, they may work irregular hours under stressful conditions. Qualifications usually include an associate's degree in biomedical technology or engineering and a bachelor's degree may be required in cases where repairs involve more complex equipment.  Median annual wages were $41,520 in 2008 and projected growth is 27% through 2018. For more information, visit the Association for the Advancement of Medical Instrumentation website.
Boilermakers
Boilermakers assemble, inspect, and maintain steam boilers and boiler fittings.  Boilermakers work with dangerous equipment and work is physically demanding. Since most work is on a contract basis, overtime and extended periods of unemployment are common.  Also, boilermakers often travel long distances and live away from home while working on projects.  Formal apprenticeships are the most common training method, but training can also be obtained through technical school programs and/or employer-provided training.  Through 2018, the field is expected to experience 19% growth.  Boilermakers earned a median annual wage of $52,260 in 2008.  To learn more about apprenticeships and careers, visit Boilermakers.org.
Insulation Workers
Insulation workers apply insulation materials to pipes, ductwork, attics, and exterior walls to help control temperatures and reduce noise passing through walls.  Insulation workers typically receive training on the job and certification is required for those who handle asbestos.  Insulation workers earned a median hourly wage of $15.34 in 2008 and 17% growth  is projected through 2018.  Visit Insulation.org or Insulators.org for more information.
Pest Control Workers
Pest control workers use both general use pesticides and restricted use pesticides, which are heavily regulated and available only to licensed professionals. Technicians also use pest management techniques such as physical barriers and baits. Pest control workers use chemicals that can be harmful if not used properly, and pest control workers experience a high number injuries compared to workers in other fields. Training usually involves both on-the-job training and formal classroom training. A college degree may be required for some jobs and many workers attend continuing education classes. Licensure is required for pest control workers and requirements vary by state.  In 2008, pest control workers earned median hourly wages of $14.37. Projected growth for pest control workers is 15% through 2018 and job prospects are very good, according to the Bureau of Labor Statistics.  For more information about a career in pest management, visit the National Pest Management Association at PestWorld.org.
Truck Drivers, Heavy and Tractor-Trailer
Heavy and tractor-trailer drivers operate vehicles with at least 26,001 pounds gross vehicle weight (GVW). Most are long-haul drivers that have routes spanning several cities or states.  Their responsibilities include planning routes to ensure timely delivery and compliance with federal standards regarding maximum driving times and rest periods. Long-haul drivers are often away from home for days or weeks at a time. Most tractor-trailer drivers will need to obtain a commercial driver's license (CDL). CDL training is offered at many vocational schools, and prospective students should check that training programs are certified by the Professional Truck Driver Institute (PTDI).  Median hourly wages for truck drivers were $17.92 in 2008 and projected growth for heavy and tractor-trailer truck drivers is 13% through 2018.  More information about trucking careers and training can be obtained at American Trucking Associations, Inc. (TruckLine.com) and Professional Truck Driver Institute (PTDI.org).
With the off-shoring of manufacturing jobs, it has become harder for those with realistic career interests (link to interest areas article) to find work.  Fortunately, there are still plenty of realistic occupations with projected growth and favorable prospects.
Source:  Occupational Outlook Handbook