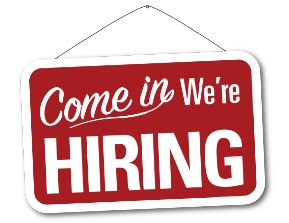 The US is currently experiencing a labor shortage in many industries. Although employers may not be happy about the shortage, it's a great opportunity for students or entry level workers to gain experience and for all workers to negotiate better pay and benefits. If you're just looking for a job to provide extra cash or thinking about changing careers, there a plenty of jobs in high demand right now. We looked at job listings in the ten largest U.S. metro* areas to see which companies are hiring and what jobs have the most openings.
Jobs in High Demand 2021
Below are some jobs in very high demand right now. You'll also find a list of some companies hiring for these positions in major metro areas across the country.
Warehouse Package Handlers & Other Warehouse Occupations
Companies Hiring**: FedEx Express, FedEx Ground PH US, Amazon, United Parcel Service, Chewy, Adecco, Staples, Keurig Dr Pepper, Office Depot, Upshift
2020 Median Annual Salary***: $30,010 (Hand Laborers and Material Movers)
Tractor Trailer Drivers
Companies Hiring: FedEx Express, Fedex Freight, Keurig Dr Pepper, United Parcel Service, Pepsico Beverages, Ryder System, Sysco
2020 Median Annual Salary: $47,130
Restaurant Hosts & Servers
Companies Hiring: Marriott International, Olive Garden, Hillstone Restaurant Group, Dave & Buster's, Outback Steakhouse, IHOP, TGI Friday's, Bonefish Grill, California Pizza Kitchen, Texas Roadhouse, PF Changs, Hard Rock Cafe
2020 Median Annual Salary: $23,740
Retail Associates & Cashiers
Companies Hiring: Macy's, T-Mobile, AT&T, Boost Mobile, The Home Depot, PetSmart, IKEA, The Coca Cola Company, Crate & Barrel, ALDI, Staples, Athleta, Walgreens, Gap, TJ Maxx, Ross Stores, Target, Pottery Barn, Lowe's, Nordstrom, Bloomingdales, H&M, Coach, Sketchers, Michaels, ZARA, KOHLS, Dick's Sporting Goods, Homegoods, Best Buy, Whole Foods Market, Club Demonstration Services, American Eagle Outfitters, NIKE INC, Aaron's, Bluemercury Inc, Banana Republic, J. Crew, Winn-Dixie, Amazon Retail LLC,
2020 Median Annual Salary: $27, 320 (retail sales workers)
Front Desk Managers & Hotel Clerks
Companies Hiring: Hyatt, Marriott International, Hilton Hotels & Resorts, Mandarin Oriental Hotel Group, Fairfield Inn & Suites, Davidson Hospitality Group, Hampton Inn & Suites, Holiday Inn
2020 Median Annual Salary: $56,670 (lodging managers)
Nursing & Patient Care Assistants
Companies Hiring: CEDARS-SINAI, Prime Healthcare, Covenant Care California, Kindred Hospitals, FleetNurse Inc, ShiftMed, US Veterans Health Administration, ShiftKey, University of Miami, Kare, Archcare, Advocate Aurora Health, ConnectRN
2020 Median Annual Salary: $30,830
Although large corporations are hiring across the country, there are many job openings at small businesses. Independent restaurants, hotels and retail establishments may offer more competitive wages and better working conditions, so don't overlook these opportunities.
Sources:
https://www.bls.gov/news.release/jolts.nr0.htm
Indeed.com
https://www.bls.gov/ooh/
———————
*Based on job search on Indeed.com. Metro areas searched: New York, NY; Los Angeles, CA; Chicago, IL; Dallas, TX; Houston, TX; Washington, DC; Philadelphia, PA; Miami, FL; Atlanta, GA; Boston, MA
** Hiring company lists are not comprehensive and are subject to change.
*** Salary data from https://www.bls.gov/ooh/. Compensation will vary greatly depending on location, experience and many other factors.