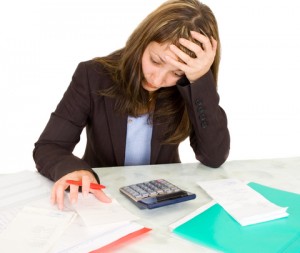 Do you struggle with math even after studying long hours and seeking help? Maybe you're okay at math but just don't like the subject. The truth is that many people don't like math for one reason or another. Some people learn to like math over time, but for others it just never clicks. Don't feel bad if you're not a math person – it's not uncommon. While it's true that many of the best paying jobs are math related, you can find a great career without being a math whiz.
Public Relations Specialists
Public relations specialists help maintain a positive image for companies and other organizations. Their responsibilities include writing press releases, using social media to asses their employer's image, arranging interviews, and helping write speeches. The job can be very stressful when an organization gets bad press, especially in the social media era. According to the Bureau of Labor Statistics, public relations specialists earned a median annual wage of $56,770 in 2015. In order to become qualified, one must possess a bachelor's degree, preferably in communications or a related subject.
Mental Health Counselors
Mental health counselors diagnose and treat mental and emotional health issues such as anxiety, depression, and relationship problems. Mental health counselors earned a median annual pay of $43,190 in 2015*. Mental health counselors must have a master's degree in counseling or psychology and a license in order to practice.
Interior Designers
Interior designers are responsible for making spaces aesthetically pleasing and functional. About one fourth of interior designers are self-employed. A bachelor's degree in required for most positions. Interior designers earned a median annual pay of $48,840 in 2015.
Recreational Therapists
Recreational therapists plan and coordinate treatment programs involving recreational activities such as crafts, music and dance. They work with handicapped and injured patients, usually in hospitals or nursing facilities. Recreational therapists earned a median annual pay of $45,890 in 2015.
Hairdressers and Cosmetologists
Hair stylists and cosmetologists cut, style and color hair. They may also provide other cosmetic services, such as makeup application. A post-secondary award and state license is required in order to practice. Hairdressers and cosmetologists earned a median annual pay of $23,710 in 2015.
Photographers
Photographers don't just take pictures, they must have knowledge of equipment and software in order to produce high-quality professional photos for their clients. Photographers often work weekends in order to accommodate client needs. Long-term on the job training is required for most jobs. Photographers earned a median annual pay of $31,710 in 2015.
Interpreters and Translators
Interpreters and translators facilitate communications among speakers of different languages. They may work in schools, hospitals, corporations, or for the government. Fluency in at least two languages is required, and a bachelor's degree is often preferred. Interpreters and translators earned a median annual pay of $44,190 in 2015.
English, Social Science, and History Teachers
Teaching may not seem like the obvious choice for those looking to avoid math. However, by teaching a specific (non-math) subject one can avoid heavy math usage. In order to be qualified to teach, one must have at least a bachelor's degree in the subject one wants to teach in addition to a state license. In 2015, middle school teachers earned a median annual pay of $55,860 and high school teachers earned a median annual wage of $57,200.
Copy Writers and Editors
Copy writers write and edit advertising and promotional materials to be used for marketing purposes. Many copy writers work on a freelance basis. A bachelor's degree in a related field is generally required. According to MyPlan.com, copy writers earned an average annual salary of $69,130 in 2015.
Fitness Trainers and Instructors
Fitness trainers develop fitness programs for individuals or groups. Instructors instruct individual clients or classes in a variety of fitness activities. Most trainers and instructors work in fitness centers.  A high school diploma is the minimum requirement for most jobs, but many employers prefer applicants with a bachelor's in exercise science or a related field. Fitness trainers and instructors earned a median annual pay of $36,160 in 2015.
No matter what your job, there's no guarantee you can completely avoid math. And any career that requires post-secondary education will require math courses. But some jobs will definitely require a greater amount of math skills and usage on a daily basis. Others, like the ones above, don't involve a constant focus on numbers.
*Salary and growth statistics from the Occupational Outlook Handbook
Save
Save
Save
Save
Save
Save
Save
Save
Save
Save
Save
Save
Save
Save
Save
Save
Save
Save
Save
Save
Save
Save
Save
Save
Save