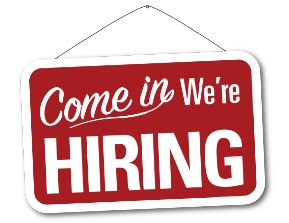 Due to the COVID-19 outbreak, many employees have lost jobs or had hours cut. If you were impacted by the pandemic and are looking for a new job, there are plenty of companies hiring. Not surprisingly, the some of the most in-demand jobs right now are for warehouse workers and delivery drivers. But no matter your industry or area of expertise, there are likely open positions available in your area. So dust off your resume and start searching for your next dream job. Below, we've listed companies that are now hiring nationwide.
Aldi
Job Titles*: Stocker, Shift Manager, Store Associate, Warehouse Team Leader, Administrative Assistant, Manager Trainee, Marketing Assistant-Advertising, Purchasing Assistant, Benefits Assistant, IT Support, Payroll Analyst, QA Specialist – Produce
Common Job Listing Location(s)**: Batavia, IL; Aurora, IL; Naperville, IL; Dublin, OH
Amazon
Job Titles: Warehouse Assistant, Warehouse Sorter, Order Picker/Packer, Delivery Driver (Amazon Flex), Customer Care Representative, Shift Assistant -Deliver Ops, Transportation Area Manager, Forklift Warehouse Jobs
Common Job Listing Location(s): Remote; Los Angeles, CA; Moreno Valley, CA; Hesperia, CA; Portland, OR; Murfreesboro, TN; Hebron, KY
Apple
Job Titles: Creative, Genius (Technical Customer Service), Business Expert, Engineer – Product Design, Inclusion & Diversity Business Partner, Technical Specialist, Global Supply Manager, Senior Copywriter
Common Job Listing Location(s): Santa Clara Valley, CA; Austin, TX
Aramark
Job Titles: Sr. Facilities Director, Cashier, Stockroom Clerk, Food Production Supervisor, Cook, Food Service Manager, Patient Transport Worker, Housekeeping, Barista, Maintenance Mechanic, Human Resources Director, Dietary Technician, Host/Hostess, Sales Manager, Washfloor Operator
Common Job Listing Location(s): San Antonio, TX; St. Louis, MO; Wichita, KS; Phoenix, AZ; Round Rock, TX; Columbia, SC; Baton Rouge, LA; Philadelphia, PA; Denton, TX; Lebanon, IN
Bank of America
Job Titles: Relationship Banker, Operations Analyst, Financial Center Manager, Wealth Management Banking Specialist, Project Manager
Common Job Listing Location(s): Richmond, VA; Miami, FL; Charlotte, NC; New York, NY; Sacramento, CA
Booz Allen Hamilton
Job Titles: Data Analyst, Physicist, Systems Administrator, Project Coordinator, Communications Specialist, Mechanical Engineer, Business Analyst, Software Developer, Automated Test Engineer, General Management Consultant, Curriculum Developer, Platform Software Tester, Architect and Interior Designer, Healthcare Site Engagement Analyst, Training Specialist, Organizational Transformation Consultant, more
Common Job Listing Location(s): Oak Ridge, TN; Arlington, VA; San Diego, CA; Annapolis Junction, MD; McLean, VA
Brookdale Senior Living
Job Titles: Receptionist, Resident Programs Coordinator, Sales Counselor, Caregiver, Sales Manager, Scheduler, Business Office Coordinator, Executive Director, Server, Cook, Driver, HR Employee Relations Specialist, Housekeeper, Security Guard, Home Care Aide, Director-Dining Services, Accounts Receivable Analyst, Clinical Coordinator, more
Common Job Listing Location(s): Burr Ridge, IL; Bonita Springs, FL; Houston, TX; Placentia, CA; Boulder, CO; Kansas City, MO; Overland Park, KS; Roseville, CA
CVS Health
Job Titles: Customer Service Representative, General Warehouse, Pharmacy Technician, District Admin Assistant, Senior Data Scientist, Senior Project Manager, Communications Consultant, Business Process Improvement Advisor, Market Research Consultant, Receptionist, Associate Software Development Engineer, Medicare Operation Consultant, Database Administrator, Store Associate/Cashier, Eligibility Consultant, File Clerk, more
Common Job Listing Location(s): Phoenix, AZ; Woonsocket, RI; Irving, TX; Northbrook, IL
Dollar General
Job Titles: Assistant General Manager, Warehouse Supervisor, Shipping Clerk, Distribution Operations Analyst, Maintenance Supervisor, Allocation Planning Manager, Fleet Supervisor, Lead Sales Associate, Senior Manager-Employee Relations, Assistant Manager-Distribution Center
Common Job Listing Location(s): West Sacramento, CA; Goodlettsville, TN; Atlanta, GA; Walton, KY
FedEx Express
Job Titles: VP Senior Assistant, Customer Service Agent, Delivery Driver/Courier, Material Handler, Package Handler/Warehouse
Common Job Listing Location(s): La Grange, GA; Norcross, GA; Sun Valley, CA; Memphis, TN; Nashville, TN; Boston, MA
Kaiser Permanente
Job Titles: Home Health Clerk, Laboratory Assistant, Customer Service Representative, Mental Health Assistant, Account Administration Representative, Associate IT Engineer Applications, Emergency Room Assistant, DBA/Systems Administrator, Licensed Vocational Nurse, Hospital Aide, Patient Access Representative, Nursing Assistant, Senior Accountant, Medical Technologist, Pediatric/Diag Med Sonographer, Medical Documentation Auditor, Social Worker, Emergency Room RN, more
Common Job Listing Location(s): Los Angeles, CA; San Diego, CA; San Francisco, CA; Sacramento, CA; Pasadena, CA; Anaheim, CA; Downey, CA; Renton, WA; Seattle, WA
Office Max / Office Depot
Job Titles: Operations Manager, Client Engagement Manager, Sales Manager, Service Advisor, Print Department Associate, Cashier, Merchandiser/Stock Associate, Warehouse Associate, Specialist-HR Customer Care, Sr. IT Manager, Print and Client Services Manager, Delivery Driver, Equipment Operator, Maintenance Mechanic
Common Job Listing Location(s): Chesterfield, MO; Wauwatosa, WI; Houston, TX; Schaumburg, IL; Boca Raton, FL; Oklahoma City, OK; Grand Forks, ND; Merriam, KS; West Chester, OH; Columbus, OH; Buford, GA; Denver, CO
PetSmart
Job Titles: Pet Groomer, Learning Consultant, Customer Care Team Member, Cashier/Sales Associate, Bather/Groomer Trainee, Professional Pet Trainer, Pet Care Specialist/Guest Service Associate, Merchandising and Inventory Manager, Assistant Store Manager, Marketing Analyst, Digital Buyer
Common Job Listing Location(s): Monroe, LA; San Mateo, CA; Phoenix, AZ
Sodexo
Job Titles: Unit Clerical, Customer Service Representative, Cashier, HR Assistant, Stock Worker and Receiver, Patient Ambassador, Receptionist Unit, Dining Room Attendant, Food Service Worker, Baker, Dietetic Clerk, Host-Hostess
Common Job Listing Location(s): Commerce, TX; Golden CO; Colorado Springs, CO; Denver, Co; Chicago, IL; Olathe, KS; Fairfax, VA; Rock Hill, SC; Oklahoma City, OK; St. Louis, MO; Burlington, VT; Portland, ME; Houston, TX
Staples
Job Titles: Local Delivery Driver, Shipping Associate, Merchandising Operations Specialist, Retail Sales Associate, Warehouse Order Picker, Store Manager, Retail Inventory Specialist
Common Job Listing Location(s): Birmingham, AL; London, OH; Orange City, IA; Memphis, TN; Greencastle, PA; Framingham, MA; Beloit, WI; Plainfield, CT; Orlando, FL; Montgomery, NY
Starbucks
Job Titles: Barista, District Manager, Director of Communications
Common Job Listing Location(s): Seattle, WA
State Farm
Job Titles: Account Representative, Customer Relations Representative, Receptionist, Marketing Associate, Office Manager, Insurance and Financial Services Position, Account Manager, Claim Specialist, Telemarketer, Staff Assistant, Intern- State Farm Agent Team Member
Common Job Listing Location(s): Birmingham, AL; Nashville, TN; Stockbridge, GA; Pineville, NC; Gresham, OR; El Paso, TX; Chino Hills, CA; Austin, TX; Glen Burnie, MD; Malvern, PA; Aurora, IL; Moraine, OH; Bryan, TX
The Home Depot
Job Titles: Financial Analyst, Cashier, Home Depot PRO-Credit Associate, LOA Case Specialist, Social Media Marketing Specialist, Admin Assistant, Project Manager-Marketing, Product Engineer, Associate Data Scientist
Common Job Listing Location(s): Atlanta, GA
UPS
Job Titles: Warehouse Worker-Package Handler, Data Entry/Warehouse, Package Delivery Driver, Administrative Assistant, Operations Clerk, Customer Service Representative
Common Job Listing Location(s): Earth City, MO; Charlotte, NC; Alpharetta, GA; Louisville, KY
Walmart
Job Titles: Floor Clerical, Cashier, Maintenance, Tire and Lube Technician, Stocking Associate, Sales Associate, Staff Pharmacist, Store Manager, Optical Lab Finish Associate, Senior Manager-Software Engineering, Director-Finance
Common Job Listing Location(s): Fayetteville, AR; Bentonville, AR; Sacramento, CA;
*Job titles do not include all jobs available at each company. They are some of the most recent jobs open at the time of writing the article.
**Locations listed most commonly in recent job postings. All companies listed are hiring for positions nationwide.