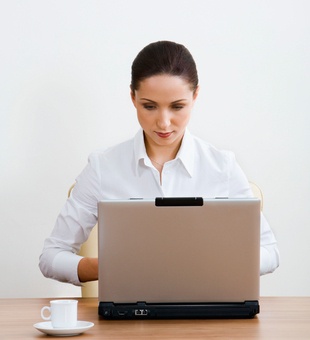 You're probably familiar with many direct sales companies, such as Avon and Pampered Chef. Direct sales consultants sell products through a variety of methods, such as in-home showings or online marketing. Direct sales jobs are perfect for those who would like to work from home, need flexible hours or just want a side income. Although making a living in direct sales isn't easy, success is possible with the right personality and marketing techniques. If you think this might be a good opportunity, consider the companies below.
Avon
Avon sales reps no longer have to go door-to-door in order to find customers. They can use the power of social media, including creating their own websites, in order to promote their businesses. Although traditionally known for cosmetics, Avon now boasts a larger selection of products including clothing and jewelry.
Arbonne
Arbonne offers a wide variety of health and beauty products including dietary supplements, skincare, hair care and makeup. It's a good alternative for those who are interested in beauty and wellness, but feel Avon isn't the right option. Learn more about becoming an Arbonne independent consultant here.
Doterra Essential Oils
Essential oils are becoming more popular as people look for natural cleaning, cooking, and health products. Doterra offers a large selection of essential oils for topical and aromatherapy purposes. Doterra sales reps (called Wellness Advocates) distribute their products via social media and classes.
The Pampered Chef
Pampered Chef offers bakeware, recipe books, dinnerware, and other cooking tools. Consultants hold cooking parties to demonstrate and help market their products. Like many other direct sales companies, they can also have their own online stores where customers can order anytime.
Stella & Dot
Stella & Dot is a company that offers jewelry and accessories. Their products are only available online and hosted trunk shows given by representatives. Independent sales reps (called "stylists" by Stella & Dot) can create their on sites hosted by Stella & Dot in order to help sell their products. Learn more about becoming a Stella & Dot stylist here.
When choosing a company to represent, you should look for one that sells products you actually like and would use. Believing in a company's values and products will help you reach your goals and make working as a sales rep more enjoyable.
For advice on achieving success in direct sales, read Be a Direct Sales Superstar
Save
Save
Save
Save
Save
Save
Save
Save
Save
Save
Save
Save
Save
Save
Save