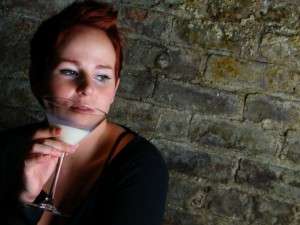 Do you love social media? If so, Sara Lopez may have your dream job. I asked Sara some questions about her job as 8th Continent Soymilk's new media spokesperson.
How did you get your job as a new media spokesperson?
My passion with social media and online marketing started when I was hosting and organizing art/ poetry events around town and I had to utilize the internet to increase attendance. From there, I knew that was what I wanted to do.
In my senior year of college I interned at an amazing marketing firm in Toledo, Ohio. After interning, I was an Account Coordinator and also was a Business Development Associate, but that never really allowed me to fully invest myself in my passion. One day I got a call from the CEO of the marketing firm that I had interned at and he said he had the perfect job for me- a social media job where I would be the brand ambassador for 8th Continent Soymilk. Being a vegetarian and lactose intolerant, I knew 8th Continent Soymilk because it was, and still is, my favorite soymilk. I made a 7-minute video that had everything from me speaking Spanish to dancing on desks, to one of my favorite Rock n' Roll songs. The tattoos, the red faux-hawk, everything that would normally make a corporation hesitant to commit to me were the same things that made the people at 8th Continent fall in love with me. I was chosen out of about 11 different submissions and from there I used my online skills, my video editing experience and my ridiculously outgoing personality to become successful at my job.
What are your primary responsibilities?
My primary responsibility is to listen to and engage with soy fans.  I also raise awareness about the benefits of soymilk and in particular, 8th Continent soymilk. The social interaction aspect of my job has got to be one of the most important attributes. Marketing and social media is now a two-way communication experience. If one of my readers/ friends online, tell me that they have feedback or that they want to try 8th Continent for the first time, I send them a special link for a coupon.  I also  have the ability to take their feedback and share it directly with the people at 8th Continent so they can get their voice heard.
Which social media outlets do you use?
I try to use the inclusive social media networks as opposed to the exclusive ones. I have a fan page on Facebook, a Twitter account, an account on Brightkite, Youtube, Flickr, Foursquare, Gowalla, Whrrl, Dailybooth. Pretty much if you name it, I am probably on it at least once a day.
What do you enjoy most about the job?
The relationships I have built online.  I have always been the person that loves to meet new people and experience new things. And, through this job I have been able to meet all types of personalities from all over the US. Although it is my job to promote online, I still build a very tight-knit relationship with the other people I interact with. For example, I was on a three-month road trip that was called the 8th Continent Soymilk Taste of Life Tour.  I went around to the coolest events and places in the US – like Burning Man and The House On the Rock. In the middle of my road trip my fiancé and I split up. You can imagine how devastating this can be alone and in the middle of a three-month trip. My online friends really helped me through that time in my life with "You deserve better"s and "His loss"s .  Since I developed these relationships online we have helped each other through heartache and congratulate each other on accomplishments. We have truly become friends.
Are there any downsides to the position?
Sometimes I get calluses from typing so much, which is something lotion can tackle. Besides that, I am hard-pressed to pinpoint any downsides. Of course there are always the average challenges of finding enough time in the day to accomplish all that you would want to get done. But when you love your job, filling your hours with work feels more like fun activities instead of "work".
What personality traits make a successful social media spokesperson?
The biggest thing I have learned from working as a social media spokesperson is that you just can't take yourself too seriously. You really do have to have a sense of humor about things because you are not writing for a newspaper nor are you a journalist. You have been hired as a spokesperson to endorse a brand because of your personality and your belief in the product.
Any advice for aspiring new media stars?
You must be true to yourself. Do not present yourself as anyone except for the true you because you are linking your name to a personality the entire world could potentially witness. Also, I cannot stress the importance of networking! A "re-tweet" from the right person could open an entire new world of audiences.
Copyright secured by Digiprove © 2010