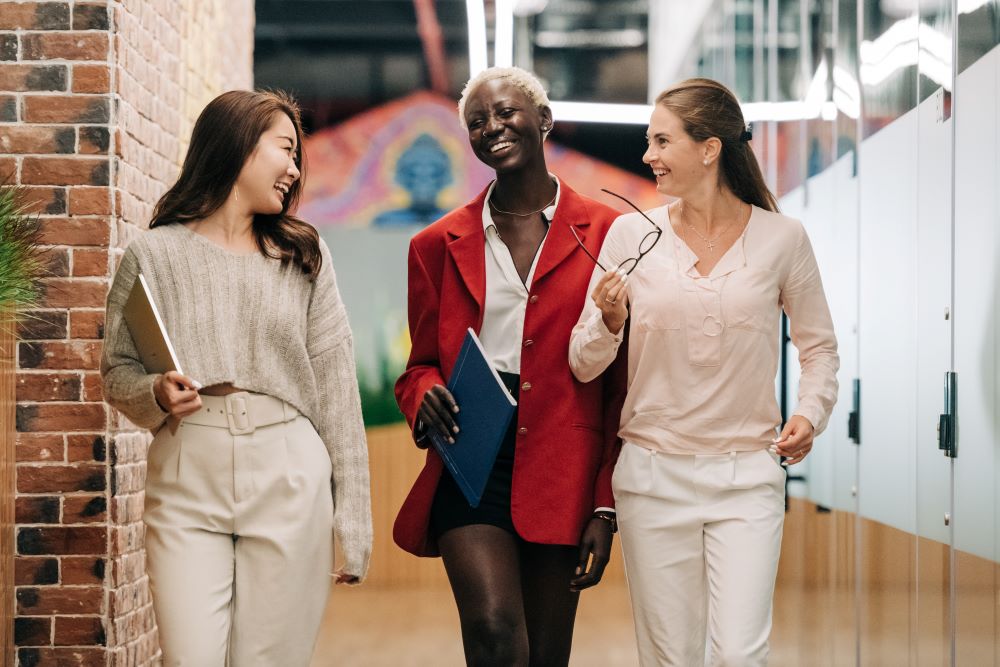 Photo by Alexander Suhorucov
Finding the right clothes and accessories for a professional look can be challenging, particularly for those just starting out or anyone on a tight budget. And no matter your job,  you'll need different types of work clothes ranging from business casual to interview outfits. But by purchasing a few basic pieces, you can build a professional and affordable wardrobe that will last many years. Read on for our affordable and essential professional wardrobe recommendations.
A simple button-down is a must-have for professionals. It works well alone with a pair of dress pants, with jeans for a more casual look and of course with a pantsuit. This highly rated button down Beninos is affordable and comes in a range of colors so you can mix up your workplace looks with minimal effort.
Most interviews require a pantsuit, and some jobs still require daily business professional wear. Whether you're dressing up every day or just for big interviews or presentations, a pantsuit is essential. This suit from Marycrafts is great for those on a budget and comes in a variety of colors and sizes. If you're just in the market for one pantsuit, we recommend black or navy as those are standard for interviews.
A simple dress in a neutral or dark color can be useful, particularly when you have to regularly dress in business professional attire. For interviews, a black or navy dress is best while you can usually go with lighter and brighter colors for everyday wear. A professional dress generally shouldn't fall above the knees and should have thicker straps or sleeves to cover the shoulders.
Dress pants are an absolute essential, no matter your job or work environment. Sometimes dressing professionally is required so keeping dress slacks on hand can save the stress of last minute shopping. If you only choose one pair, black is the best choice for color. It's also good to have a pair in grey or a khaki color. Luckily, dress slacks can be comfortable and many brands make stretchy, soft pants that look nice.
To dress up any outfit, add a structured blazer. Blazers can be paired with dresses or jeans and a t-shirt. Blazers make your casual and work wardrobes go further. Choose a black blazer for a classic professional look and a bright blazer to add style to an everyday outfit.
Nice blouses are a professional wardrobe staple. A dress blouse can be worn alone with slacks and skirts or paired with a pantsuit. Choose at least a few blouses in different patterns and colors to add variety to your work style. A blouse serves to show off your personal style while remaining professional.
Even if skirts and dresses aren't your thing, a pencil skirt makes a great addition for when you need to dress up your wardrobe. Choose a color that works for your other wardrobe staples (black never fails) and you'll have lots of go-to looks for work.
Although workplaces are becoming more lenient when it comes to outfit choices, closed toe shoes are often expected for certain occasions. A lower, chunky heel makes a more comfortable choice for those who don't like heels. Black is best if you're only choosing one pair, but having a neutral or lighter color gives even more style options.
Flats are great for everyday work wear. Not only are they more comfortable than most heels, but they are more versatile when it comes to working with different outfits. Flats look great with jeans or a dress.
Need a bag that holds all your work gear? A laptop tote bag is perfect for presentations, interviews, and daily use. Choose a structured bag in a dark or neutral color. Bonus if the bag includes a USB port for on-the-go device charging.
Styles have changed and workplace dress codes have become more casual in general. But some pieces will always be in style and should be a staple of every professional wardrobe.