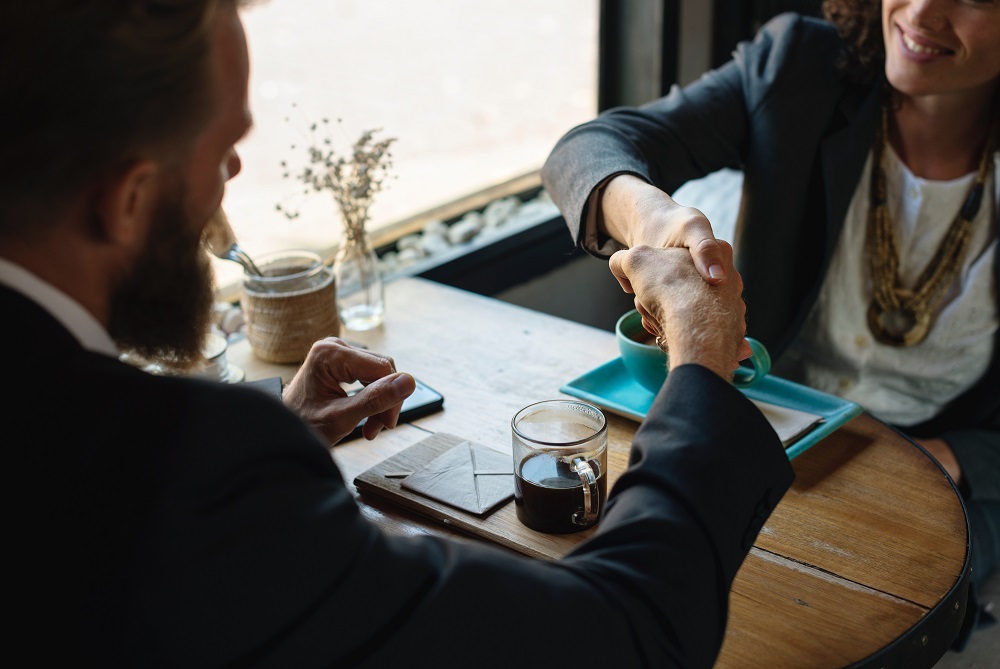 Photo by rawpixel.com from Pexels
Did you know women negotiate four times less than their male counterparts and that female leaders who act like male leaders, more authoritatively and direct, are viewed more negatively? To help combat this problem, Rhonda Moret founded of Elevate for Her. Elevate for Her is a professional development organization with tactical programming designed to help women claim their value and step forward from inferiority, with drive, passion, and action to achieve their goals– stemming from learning and education. Below, Moret offers negotiation tactics for women.
What are some negotiation tips for women just starting out in the workplace?
Do Your Homework. Do extensive research to find out what type of salary ranges are applicable in your field and with your level of experience. There are several online resources which will provide insight as to compensation packages so that you know what you can expect. One of our favorites is Glassdoor.com.
Know Your Value. Understand exactly what you have to offer a potential employer even before you get to the negotiation table. We have our students go through an exercise whereby they formally document their work, school, and volunteer experience. And in most cases, at the completion of the exercise most are pretty impressed with the scope of their experience (it is easy to forget various experience and skills sets you have developed over the course of several years). This allows our students to be confident with what they bring to the table and positions them to get top dollar.
Be Confident. Half of the battle of negotiations comes down to how confident you are or are perceived to be. If you are confident, self-assured, and even bold, you can elevate your position simply by how you present yourself. This goes for both verbal and non-verbal cues – so you need to look, speak, and behavior confidently.
Have a Plan B. If you don't get the offer or compensation package you want, what is your plan b? You need to strategize and think through what you are willing to compromise on (accepting a lower starting salary let's say with the agreement of a performance review within 6 months) and what will become a deal-breaker (a starting salary of $10k less than you previously targeted).
Should women try to behave more like men in the workplace? Why or why not?
Women must bring their authentic selves to the workplace. In previous generations, women felt like they needed to assume more 'masculine' behaviors in the workplace in order to advance their careers. In fact, women even tried to look more male-like by wearing shoulder-pads, pant suits, and even ties. But today, innovative and progressive organizations are proactively seeking diversity in their workforce. They want the female perspective in that research shows that the more diverse an organization is, the better their financial performance. So we can be our authentic ourselves. And if that is not the case within your organization, you may want to find a new place to work!
What can women do to overcome inherent gender bias that exists in many corporate cultures?
When encountering inherent gender bias in the workplace, women need to be confident enough to call it out. Some of the more commonplace examples of gender bias we hear about often takes place in the boardroom. Women share stories of constantly being interrupted in meetings, being assigned note taking and "secretarial" responsibilities, and even being required to serve coffee and clean up after meetings; regardless of their role within an organization, but simply as a result of their gender. With these types of issues, we advise women to address this behavior outright. And while it may be uncomfortable to do, addresses these issues really needs to occur in order to discourage the perpetuation of these behaviors. When there are incidents of gender bias are more egregious and affects career advancement (so raises and promotions), we advise women to work through her Human Resources offices and/or solicit the help and support of individuals operating in a leadership role in order to address these issues.
More about Rhonda Moret
Rhonda Moret is viewed as a truly holistic marketing practitioner. Having expertise in strategic marketing, public relations, digital and traditional advertising, and special events, she has worked with or for some of the world' s most recognized brands including Universal Studios, Subway Restaurants, Nike Golf, the PGA of America, and the PGA TOUR.
Moret' s most recent venture, Elevate for Her, has her focused on helping women elevate the critical business skills needed to reach the upper levels of leadership and management. With offerings including negotiations, leadership, personal branding and communications, Moret views this work as her passion project and an effort to ultimately create greater gender and pay parity in the workplace.